Ilvy Njiokiktjien – 'Slagroomtaart en slingers, Nederland in 100 verjaardagen'
8.11.2014 – 11.1.2015 | Dutch Fotomuseum, Rotterdam
After more than eighteen months Ilvy Njiokiktjien completes the extensive photography project 'Slagroomtaart en slingers, Nederland in 100 verjaardagen'  with an exhibition in the Dutch Photo Museum and the crowd-founded publication.
In April 2013 Photoweek Foundation (an initiative of Dutch Photo Museum and Foam) declared Njiokiktjien the First Photographer of the Fatherland. Photo Week booked her for a photo series in the theme called 'Look! My family'. She chose then to bring the phenomenon of birthday in pictures, a time when many families come together. This series, consisting of a dozen birthdays, was seen during Photo Week 2013 including Noorderlicht Photo Festival.
After PhotoWeek Ilvy decided to continue the series independently by picturing all kind of birthdays ranging from a first birthday to a hundredth. For this she crossed the Netherlands, featuring from poor to rich, from immigrants to natives, a hundred, special extraordinary ordinary birthdays. For a certain part series confirms the cliché image of circles, party streamers and cake, but also surprises how less ordinary it could be. With birthdays Njiokiktjien gives us an insight into the customs and habits of various Dutch families. The result is a cheerful and colourful period depiction of the Netherlands. A photobook of the same name will be issued by Schilt Publishing in November 2014, with text by journalist Sabeth Snijders for every celebrant.
 * Ilvy Njiokiktjien is an independent photographer and multimedia journalist based in the Netherlands. She has worked in many parts of the world, with a focus on Africa. As a news and documentary photographer, she covers current affairs and contemporary social issues. Her work has appeared in Der Spiegel, Telegraph Magazine, The New York Times, and l'Espresso, among others, and was exhibited at Visa pour l'Image in 2012.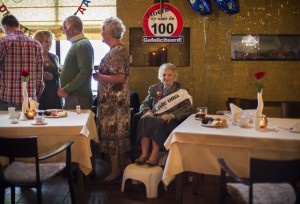 99 jaar, Iet Marcus © Ilvy Njiokiktjien