28 November – 10 December 2014
In 2013 the Gieskes-Strijbis Fund and Foam awarded Doina Kraal* the Foam 3h Award to grant her the opportunity to create a new work or to make an artists' book. This led to the project 'Touche-à-Tout', a traveling installation that builds on her multimedia installation 'In de Rarekiek' which was presented in 2012 as part of the Foam 3h program and which resulted in winning the 3h award. Touche-à-Tout will be a similar, smaller, but new installation, with which Doina will travel from Asia to Oceania, from North America to South America and from Africa back to Amsterdam. The presentation in Foam 3h will be the kick-off for this journey. The development and travel of Touche-à-Tout can be followed on a website and the information collected there will eventually be published in printed form as an artists' book.
Touche-à-Tout is a portable installation that Kraal will take with her on her travels. Traces of the journey will become visible in this work. Every place that she visits will add to her work in progress. In previous projects Kraal focused mainly on 'looking' at the world. Touche-à-Tout stimulates all the senses using different media: you can taste flavours, smell scents, you can touch objects, hear – and make sounds. The audience automatically becomes part of the installation.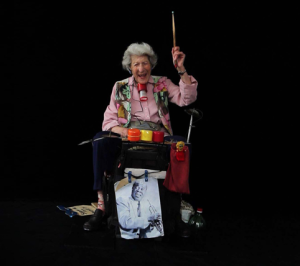 Foam 3h: Doina Kraal – Touche-à-Tout
* Doina Kraal (1980) graduated from the Fine Art and New Media department of the Gerrit Rietveld Academie in Amsterdam in 2002. She then earned a Master in Fine Art at the Central Saint Martins College of Art in London. Her work has been shown in the Point Blank Gallery, Johannesburg, Times Square Gallery, New York, Museum Boijmans van Beuningen, Rotterdam, Soledad Senlle Gallery, Amsterdam and other locations in the Netherlands.