The 2015 Sony World Photography Awards, organised by the World Photography Organisation, are now open for entries. Professional, amateur, youth and student photographers from across the world can enter their best work for free at world photo.org. Photographers will compete for a range of cash prizes and the latest cutting edge digital imaging equipment from Sony. Overall winners will be announced at a gala ceremony held in London on 23 April 2015.
The Sony World Photography Awards is widely recognised as the leading global photographic awards programme in existence today. Launched in 2008, the awards are dedicated to supporting and cultivating photographic culture.  Through a range of annual competitions, we hope to discover new talent in the world of photography and moving image. Whether you are just starting out or a fully-fledged professional you can enter whichever competition you believe suit your level and experience.
The most recent winner of the L'Iris d'Or/ Photographer of the Year title is American photographer Sara Naomi Lewkowicz for her series 'Shane and Maggie' a powerful and intimate examination of domestic violence as a process. The winner of the 2015 L'Iris d'Or/Photographer of the Year title and the Open Photographer of the Year will both receive cash prizes. All category winners will receive the latest digital imaging equipment from Sony, and the Student Focus winner will receive a range of new, cutting edge Sony digital imaging equipment for his or her university. Winning and shortlisted photographs will also be published in the 2015 edition of the Sony World Photography Awards book and exhibited at Somerset House, London.
The 2015 Sony World Photography Awards include the following competitions:
Professional – 15 categories judged on a series of work
Open – 10 categories judged on a single image
Youth – three categories for photographers under 20. Judged on a single image
Student Focus – for higher education photography students aged 18-30
6 December 2014 – Student Focus competition closes
5 January 2015 – Open and Youth competition close
8 January 2015 – Professional competition closes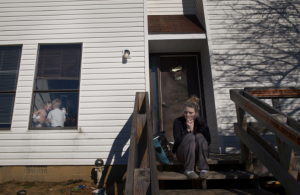 © Sara Naomi Lewkowicz | Shane and Maggie