This winter Foam proudly presents the first major Dutch retrospective of the famous Japanese photographer Nobuyoshi Araki (Tokyo, 1940). Araki is without doubt one of the most famous Japanese artists of our time. His inexhaustible creative energy shown by the large amount of more than 450 books which he published in the past four decades. Since he began his career in the mid-sixties, he made tens of thousands of pictures. Araki's work is personal, haphazard,  lustful, erotic, anarchic, touching, vulgar, sentimental.
ARAKI Ojo Shashu – Photography for the After Life: Alluring Hell is conceived in close collaboration with the artist. Nobuyoshi Araki is the starting point and so is the vision that he today has on his oeuvre. This is reflected in a careful selection out of his numerous important series. The title of the exhibition refers to the influential Japanese-Buddhist book Ōjōyōshū from 985 AD. It depicts heaven and hell, and inspires Araki in his existential exploration of Life (Sex) and Death through photography.
During the past months, the 74-year-old Araki worked on his new series qARADISE, which consists of dark photographs of flowers and dolls. Moreover, he has rediscovered his never exhibited series Alluring Hell from 2008, with erotic black-and-white photographs overpainted by Araki himself. Also an extensive collection of fading polaroids from the Impossible series is shown. These recent series set the tone of the exhibition
Go and visit Foam between 19 December 2014 – 11 March 2015– the cumulative effect allowing to unravel the obsessions of the Photographer can be overwhelming.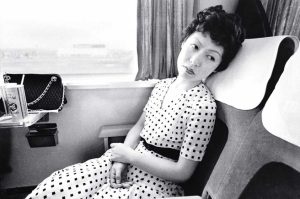 From the series Sentimental Journey, 1971, Courtesy Nobuyoshi Araki, in collaboration with Galerie Alex Daniëls – Reflex Amsterdam